This content contains affiliate links. When you buy through these links, we may earn an affiliate commission.
In case there's any doubt that BookTok continues to move units, Hannah Nicole Maehrer's Assistant to the Villain has debuted as a #1 USA Today, #2 New York Times, and #2 Publishers Weekly bestseller. It's based on a Maehrer's viral TikTok series, and like Fourth Wing, it has a limited first print run with sprayed edges.
Another new addition to the list this week is The Coworker by Freida McFadden. McFadden's previous book The Housemaid is still on the bestseller lists, and this follow up looks like it's poised to keep up the momentum.
To get these numbers, we look at the USA Today overall top 10; Publishers Weekly overall top 10; the New York Times top 10, both Combined Print & E-Book Fiction and Combined Print & E-Book Nonfiction lists; Amazon Charts top 10, both Fiction and Nonfiction; and Indie Bestsellers top 10, Fiction and Nonfiction, both Paperback and Hardcover. New additions to the list this week are bolded.
This list continues to have a lack of diversity on many levels, including being disproportionately by white authors. Some Indie Bestsellers you should know about are The Heaven & Earth Grocery Store by James McBride and Our Missing Hearts by Celeste Ng.
Books On All Five Bestseller Lists:
Fourth Wing by Rebecca Yarros (Publishers Weekly #3, USA Today #2, NYT #1, Amazon #3, Indie Bestsellers #6)
Tom Lake by Ann Patchett (Publishers Weekly #4, USA Today #5, NYT #3, Amazon #3, Indie Bestsellers #1)
Books On Four Bestseller Lists:
Assistant to the Villain by Hannah Nicole Maehrer (Publishers Weekly #2, USA Today #1, NYT #2, Indie Bestsellers #8)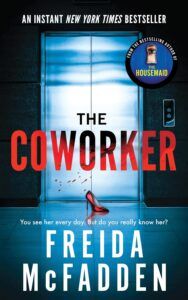 The Coworker by Freida McFadden (Publishers Weekly #6, USA Today #4, NYT #4)
The Housemaid by Freida McFadden (Publishers Weekly #8, NYT #6, Amazon #2)
A Court of Thorns and Roses by Sarah J Maas (Publishers Weekly #9, USA Today #6, Indie Bestsellers #2)
Lessons in Chemistry by Bonnie Garmus (NYT #8, Amazon #6, Indie Bestsellers #4)
It Ends with Us by Colleen Hoover (Publishers Weekly #10, NYT #9, Indie Bestsellers #6)
---
Go beyond the bestseller lists with made-for-you book recommendations from TBR, our book recommendation service!
Find more news and stories of interest from the book world in Breaking in Books.