This content contains affiliate links. When you buy through these links, we may earn an affiliate commission.
Most of the Indigenous authors writing kids' books today grew up with very little representation of their own identities and experiences in the children's books they had access to. This is an all too familiar problem for a wide array of marginalized communities and one that has a particularly devastating impact on young readers.
In her essay "The Power of Representation: Why Diversity in Children's Books Matters," Charity Wacera writes that a "lack of representation can have a consequential impact on children's self-esteem, especially for children from underrepresented groups who rarely see themselves reflected in the books they read. Moreover, a lack of diversity in children's literature can perpetuate harmful stereotypes and biases, leading to exclusion and discrimination."
Happily, contemporary Native writers have been hard at work publishing stories for kids of all ages. Not only are there many emerging Native kidlit authors, but even writers who typically write for adult audiences — like Louise Erdrich, as just one example — have contributed to the vast stores of books for young readers.
There are so many new books by Indigenous writers hitting the presses these days that I've restricted this list to books published in the last few years.
Native Picture Books
Berry Song by Michaela Goade
I love a good story of grandparents and grandchildren connecting over simple pleasures, and Michaela Goade's Berry Song is just that (and so much more). Adorned with Goade's renowned illustrations, the book depicts a Tlingit grandmother-granddaughter duo singing a harvest song as they pick berries among the flora and fauna of Lingít Aaní (Tlingit land). It's a touching story that's likely to become a family favorite.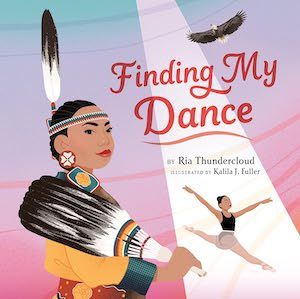 Finding My Dance by Ria Thundercloud and Illustrated by Kalila J. Fuller
Ria Thundercloud (Ho-Chunk and Sandia Pueblo) began performing at powwows at the age of 4, and has since gone on to become a professional dancer. Trained in both Indigenous dance traditions (such as jingle dancing and fancy shawl dancing) and Western dance styles (including ballet, tap, and jazz), Thundercloud's autobiography is a moving story of the power of dance and the joy and pride that can come from embracing one's culture.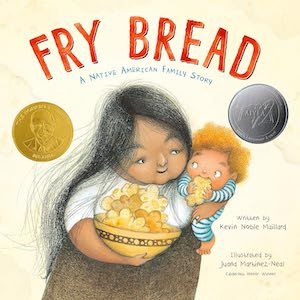 Fry Bread: A Native American Family Story by Kevin Noble Maillard and Illustrated by Juana Martinez-Neal
As with many stories about food, Fry Bread is also about communion and culture. Mekusukey Seminole author Kevin Noble Maillard will make your mouth water at the same time he warms your heart with rich depictions of Native American people and traditions. Along the way, the text doesn't shy away from settler colonial histories even as it folds them into the rest of the book in a manner that's attuned to a young readership. Let's just say it's with good reason that this book is a multiple-award winner.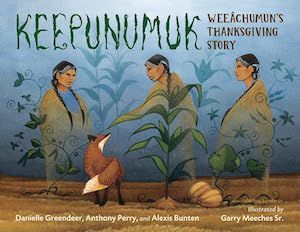 Keepunumuk: Weeâchumun's Thanksgiving Story by Danielle Greendeer, Anthony Perry, and Alexis Bunten, and Illustrated by Garry Meeches Sr.
This book, which is beautifully illustrated by Garry Meeches Sr., tells the story of "Thanksgiving" from the perspective of the Wampanoag tribe. More specifically, young Maple and Quill's grandmother is planting the Three Sisters (corn, beans, squash) in her garden when they ask her to tell them about the story behind the holiday. She tells them Weeâchumun's (corn's) story — a tale of animal and human helpers, newcomers to the land, and the way Thanksgiving is remembered as a day of mourning due to the events that ensued with settler colonization.
Remember by Joy Harjo and Illustrated by Michaela Goade
This book is such a treat! The text comes from US Poet Laureate Joy Harjo's poem "Remember" and features stunning illustrations by Caldecott Medalist Michaela Goade. In a way, it's a dialogue between the two, with Harjo's words inviting young readers to reflect on their ancestral roots and attendant stories and Goade's illustrations bringing her own Tlingit culture to life on the page. The result is a book featuring illustrations that perform the very work the poem would have readers do, which is pretty darn cool!
Native Middle Grade Books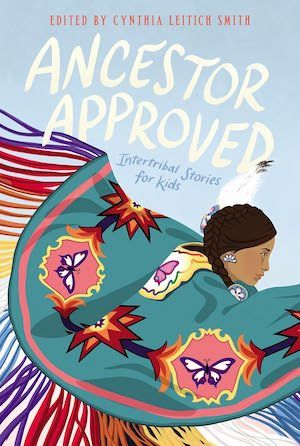 Ancestor Approved: Intertribal Stories for Kids edited by Cynthia Leitich Smith
Using an international powwow (the Dance for Mother Earth Powwow in Ann Arbor, Michigan) as its touchstone, this book collects 18 stories by contemporary Native writers. Linked together by the powwow, the characters in these tales each have their own unique voices, traditions, and concerns. The collection touches on a wide array of issues — some social, others political, and still others personal — and has so much to offer young readers. The stories make for wonderful reading with kids, and many of the authors who contributed to this volume have published books of their own, which is fantastic since readers can track down more books by authors whose stories they especially enjoyed here.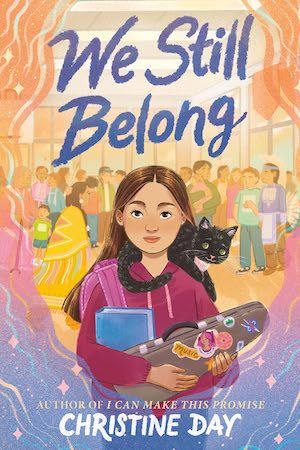 We Still Belong by Christine Day
Wesley Wilder is a plucky seventh grader who shares her Upper Skagit background with author Christine Day. When we meet Wesley, she's having a pretty rough week. Not only is her poem on Indigenous Peoples' Day slated for publication in the school newspaper, but she's also got big plans to ask her crush to the upcoming dance. Unfortunately, neither of these momentous events goes how she intended, and readers accompany Wesley as she struggles to navigate her Indigeneity. I won't plot spoil, but I can tell you the ending is well worth the wait!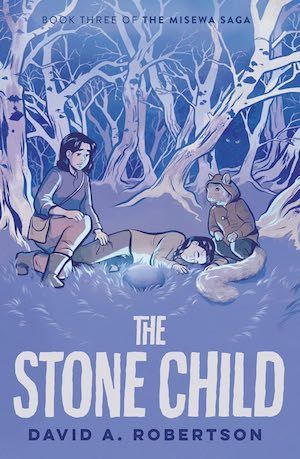 The Stone Child by David A. Robertson
This novel is the third installation in the Narnia-inspired Misewa Saga. The books in this series aren't standalone, so you'll want to back up if you haven't read the first two books yet. Regardless, Robertson brings traditional Indigenous narratives to the table in this fantasy series. Eli and Morgan live in the same foster home in Winnipeg and find an unlikely escape from their daily struggles at school and with their distance from their Native communities. Without giving too much away, in The Stone Child, you'll meet both new and familiar characters as Morgan embarks on a race against the clock to save Eli.
Tiger Lily and the Secret Treasure of Neverland by Cherie Dimaline
Released as a companion to Disney's new live-action film Peter Pan & Wendy, Dimaline's Tiger Lily and the Secret Treasure of Neverland tells the backstory of the teenaged Tiger Lily. The book continues some of the work the film attempts to do to reverse the pall of racism that was so strong in the 1953 animated movie. Acclaimed Métis writer Cherie Dimaline portrays Tiger Lily as a member of the Indigenous peoples of Neverland — one who is close friends with Peter Pan and his Lost Boys and who just might be instrumental in fending off the pirates who have come to Neverland in search of treasure. It's a story of bravery and maturity that deftly exposes the colonialist roots of JM Barrie's original Peter Pan tale.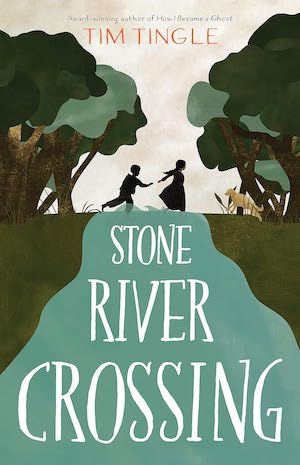 Stone River Crossing by Tim Tingle
Expanding on his earlier book Crossing Bok Chitto, Choctaw writer Tim Tingle depicts an unexpected friendship between Lil Mo and Martha Tom. It's 1808 in Mississippi, and Lil Mo and his family are enslaved while Martha lives with her family in the Choctaw nation. When she breaks the rules and crosses the Bok Chitto River, the two become friends. When Lil Mo's family is threatened by the enslavers' plans to sell his mother, Martha shows him and his family a secret way to escape. They're taken in by the Choctaw nation, and the ensuing tale of camaraderie, community, and magic is exceedingly compelling.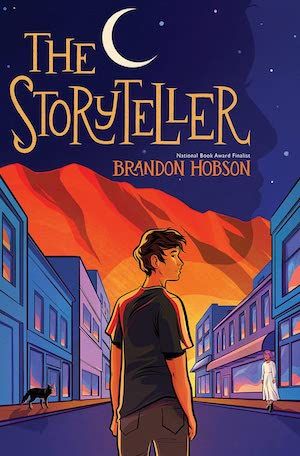 The Storyteller by Brandon Hobson
Ziggy Echota wants to find his mom. She went missing when he was a toddler, and he thinks he may have found a lead. But Ziggy also suffers from anxiety in pretty serious ways. Despite the challenges his anxiety poses, he embarks on a quest with a classmate and (unbeknownst to him) his sister. As Ziggy becomes more and more engrossed in his search for his mother, Hobson's novel explores serious issues such as mental health and missing Indigenous women in an age-appropriate and sensitive manner. This book is not one you'll forget anytime soon.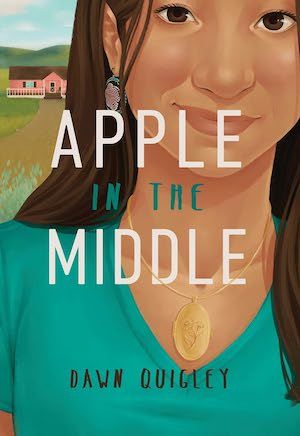 Apple in the Middle by Dawn Quigley
Protagonist Apple Starkington is innately lovable. Even though she's been living away from her Native community, she's never been accepted by her white peers. A particularly painful experience led to her decision to reject her Indigenous roots, but when she winds up reluctantly spending the summer on the Turtle Mountain Indian Reservation, she begins to understand what she's given up and has to figure out who she is in this world.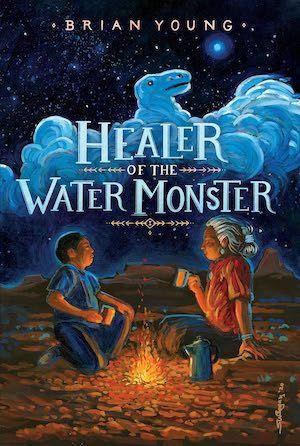 Healer of the Water Monster by Brian Young
What starts as an ordinary tale of a preteen boy deciding to spend the summer with his grandmother quickly evolves into a full-fledged epic adventure. Nathan's mad at his dad, so he turns to his grandma, Nali. Despite the lack of cell service on the Navajo reservation, Nathan's excited to spend the summer with Nali. But instead of making progress on his science fair project, he ends up befriending a Holy Being named Pond, trying to save his veteran uncle Jet from a different kind of creature, and finding himself deeply enmeshed in Navajo culture and tradition. It's a surprising story that'll have readers turning the pages from start to finish.
Native Young Adult Books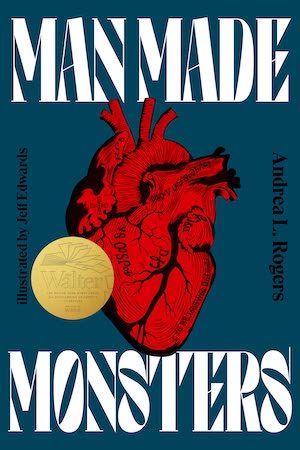 Man Made Monsters by Andrea L. Rogers
I'm obsessed with Man Made Monsters. I picked it up on a lark, and it's one of the best books I've read all year. It's a collection of interrelated short stories that begins in the 1830s with a young Native girl getting bitten by a vampire and concludes in the near future with her young ancestor finding community during the zombie apocalypse. Don't worry; as much as I've said, I haven't spoiled the plot for you. There are werewolves and extraterrestrials in these pages, right alongside the beautiful artwork that enhances the stories' themes and incorporates words written in the Cherokee syllabary. Andrea Rogers has penned a unique and moving book: do yourself a favor and read it.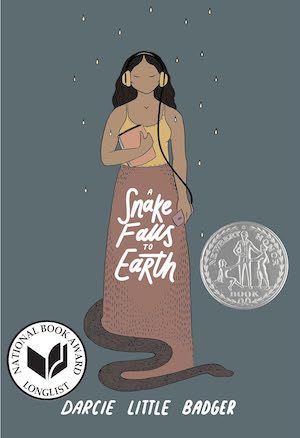 A Snake Falls to Earth by Darcie Little Badger
It's no wonder Darcie Little Badger's book has garnered so much attention: it's fantastic! An ordinary girl named Nina and a cottonmouth snake person named Oli should exist in separate worlds. But something's amiss, and Nina and Oli find themselves helping each other as they strive to fight off the dangers threatening the ones they love. The novel alternates between their distinct perspectives and delivers a compelling fantasy story of friendship amidst the backdrop of contemporary settler colonialism.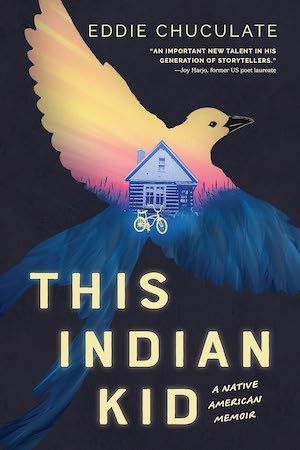 This Indian Kid: A Native American Memoir by Eddie Chuculate
Unlike the majority of books on this list, This Indian Kid is a work of nonfiction. It's an easy read in that it's quite episodic. What I mean by this is that Chuculate's narrative is delivered in short memories, which gradually take shape and form a picture of his experiences growing up in Muskogee, Oklahoma. The inclusion of photos adds a nice touch to this memoir about family and community.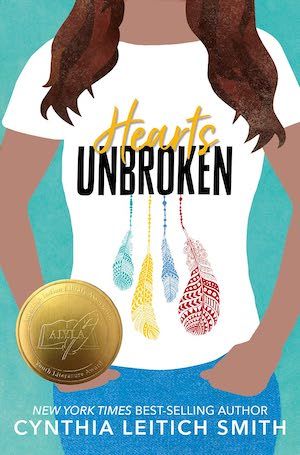 Hearts Unbroken by Cynthia Leitich Smith
Lou Wolfe dumps her boyfriend when he disparages Native people (like her) to her face. When the school year begins, she throws herself into the school newspaper. Things really heat up — in terms of news and also (potentially) romance — when Lou and another reporter, Joey Kairouz, team up to work on a story about the backlash directed at the school's upcoming production of The Wizard of Oz. The play's ethnic inclusivity has caught the attention of a group called Parents Against Revisionist Theater, and things are getting ugly. Hearts Unbroken manages to deliver a good love story in tandem with a critical perspective on current issues. Bonus: A second book in the Hearts Unbroken storyworld, called Harvest House, is set for release in July 2024.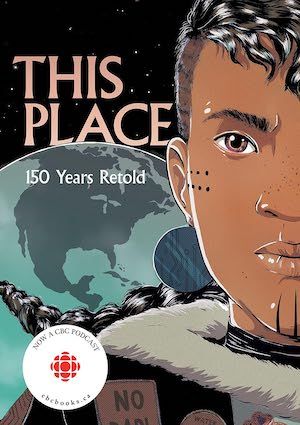 This Place: 150 Years Retold
Graphic novel anthology? Check. Canadian history? Check. Indigenous perspectives? Check. This Place: 150 Years Retold gathers graphic narratives by Native creators and focuses on different moments of Canadian history together into one powerful tome. I can't decide what I appreciate most: the rich stories and the perspectives from which they're told, the dynamic illustrations, or the timelines and authors' notes that accompany each anthologized work. It really doesn't matter, though, because the point is that this is a powerful work, and you should experience it for yourself!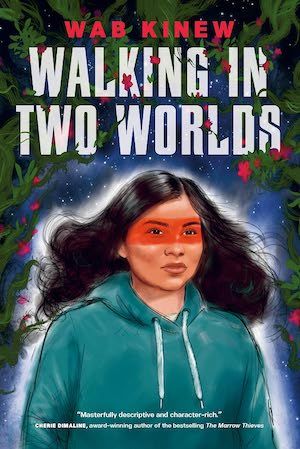 Walking in Two Worlds by Wab Kinew
In a nutshell: this book is awesome! It's got reservation politics, angsty teens, and a really high-stakes virtual reality situation. Bugz feels dwarfed by her family's accomplishments, so she retreats to the Floraverse, a VR gaming world where she's almost as influential as her family is in the Anishinaabe community. When one of her rivals from the Floraverse — Feng, who's a Muslim Uighur — is sent to join his aunt on the rez, the pair struggle to translate their online relationship to the real world. This one's super fast-paced in the best of ways, and good news: Book 2 of The Floraverse is set for release in January 2024!